pomeranian colors and  pomeranian color changes from puppy to adulthood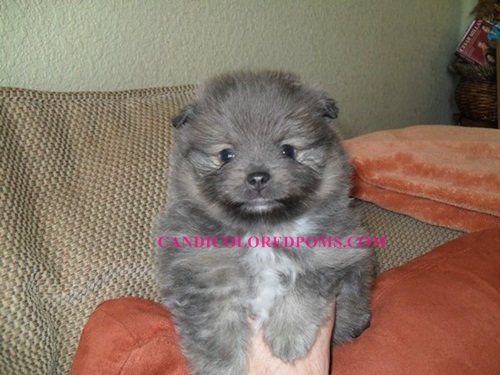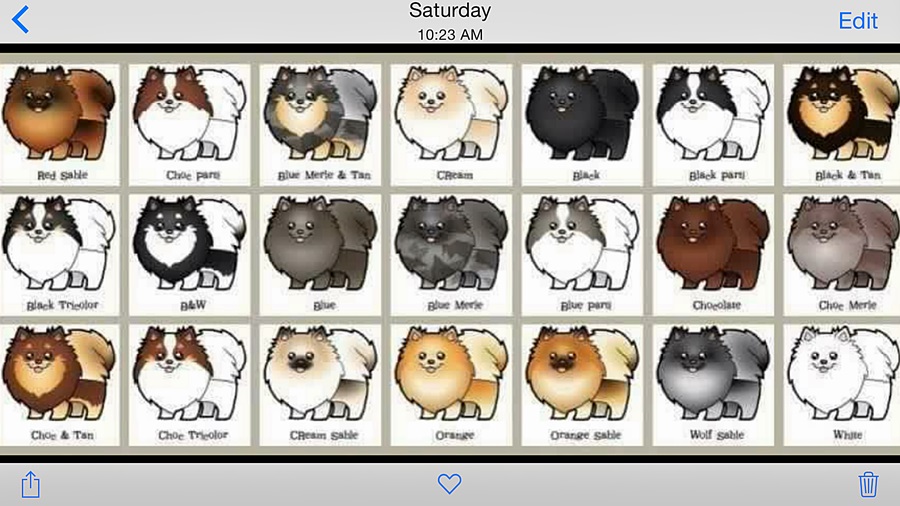 Pomeranians are amazing little fur balls.  Some people dont believe me when I tell them pom puppies are born one color and morph into something else.  This isnt true for all the pomeranian colors, but for the sables especially, it is. The sable pomeranian puppies are born dark and lighten as the hair grows out from the hair shaft and moves to the tips of the fur.   Below I am posting some pictures of just how much these little ones colors change from newborn to adults.  I hope this will be helpful to choose the color you have in mind.          candicoloredpoms.com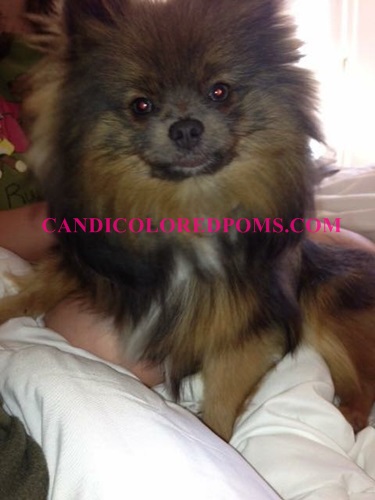 BLUE AND TAN SABLE.  THIS PUPPY WAS BORN SILVER LIKE A SPOON AND YOU CAN SEE THE HUGE COLOR CHANGE AT APPROX. 1 YEAR OLD.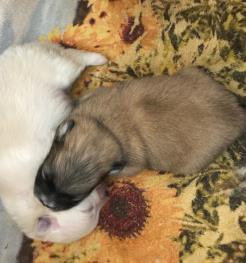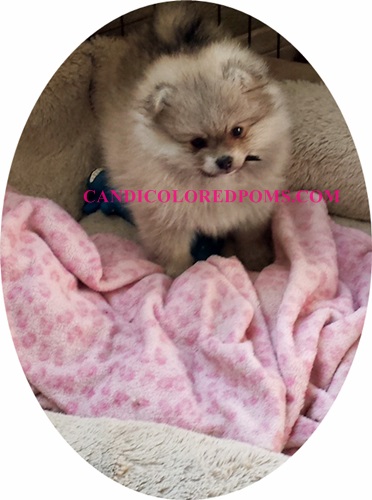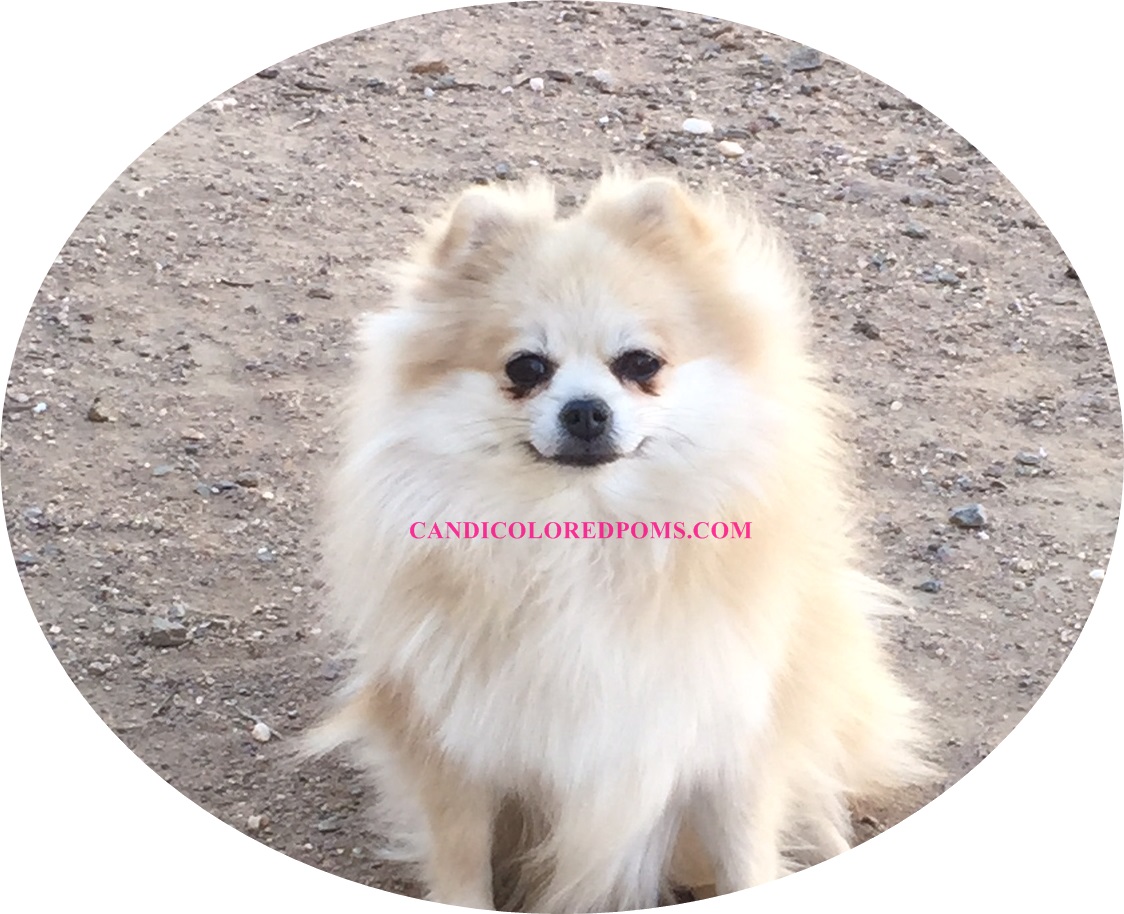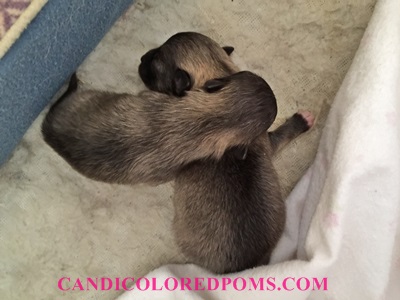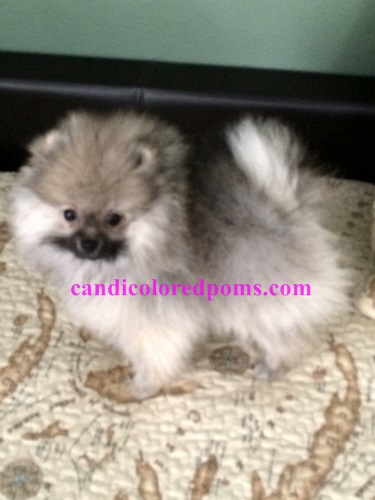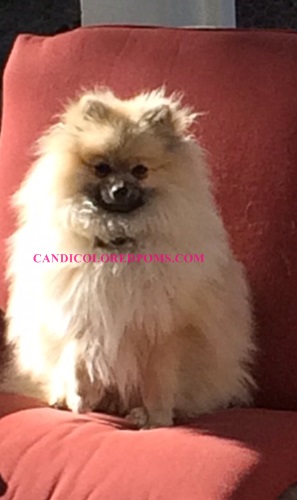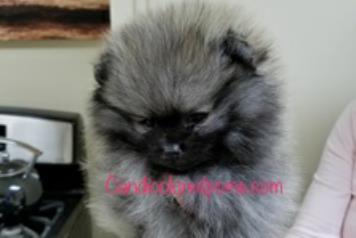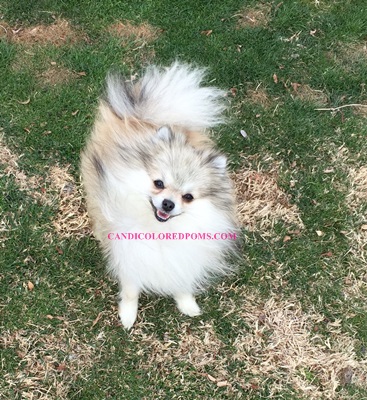 CREAM SABLE NEWBORN VARIATIONS IN SABLING AMOUNTS

CREAM SABLE AT 8 WEEKS AND AGAIN AT 1 YEAR

CREAM SABLE AT 8 WEEKS AND AGAIN AT 1 YEAR

CREAM SABLE AT 8 WEEKS AND AGAIN AT 1 YEAR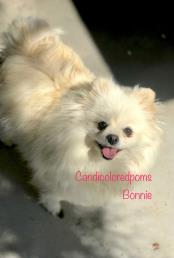 CLEAR CREAM WITHOUT SABLING AS PUP AND ADULT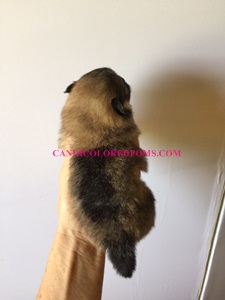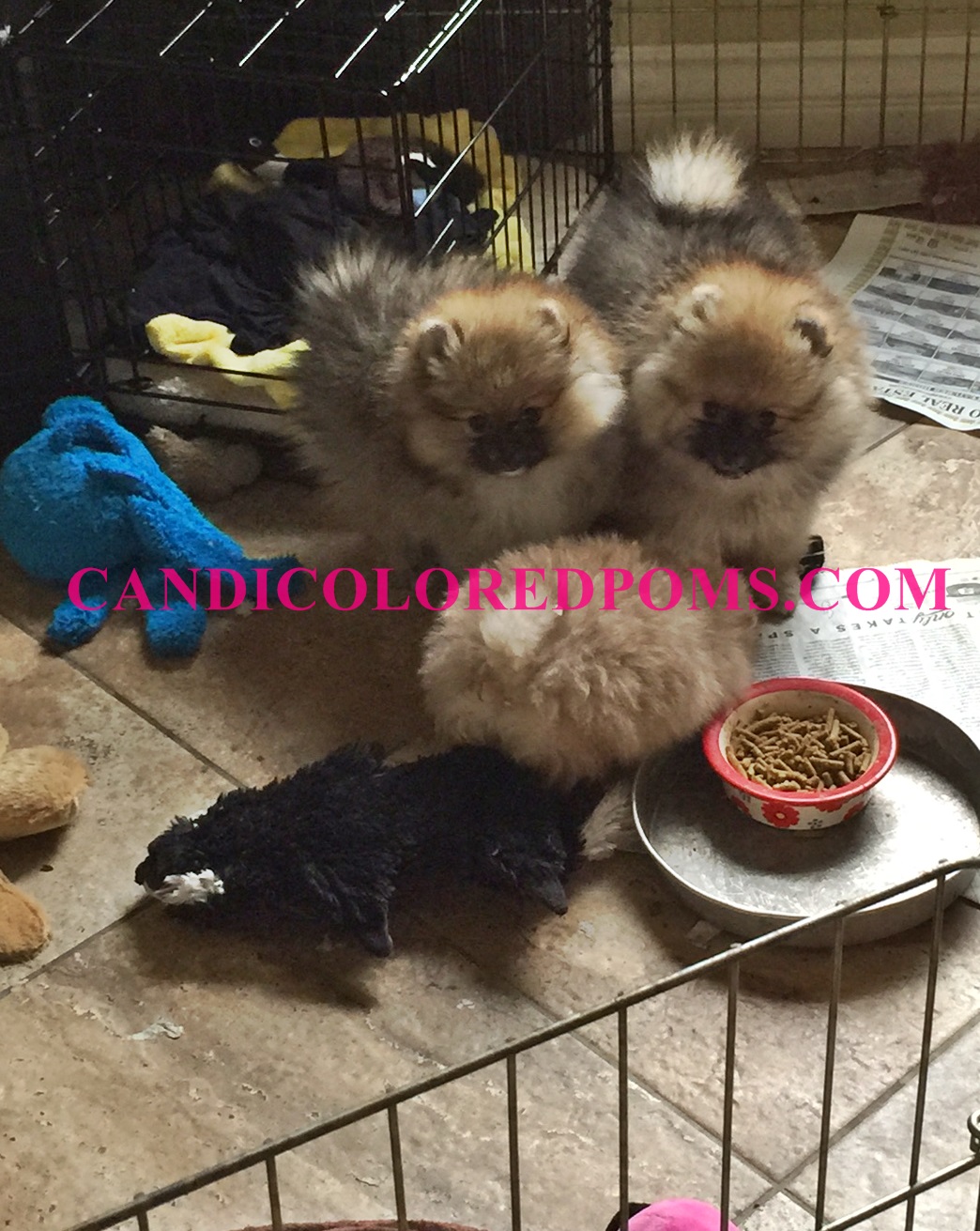 ORANGE SABLES AS NEWBORNS AND AGAIN AT 8 WEEKS, THEN  AS ADULTS. These are Katniss and Heathens puppies.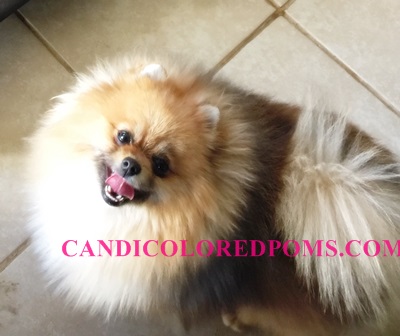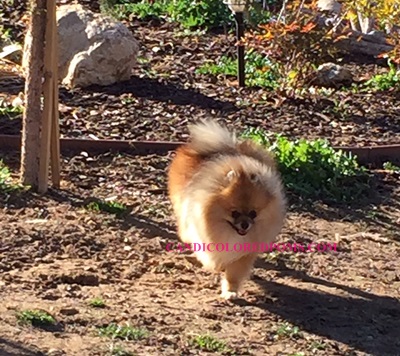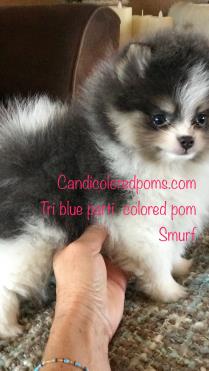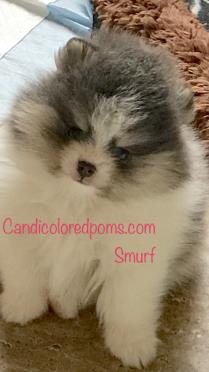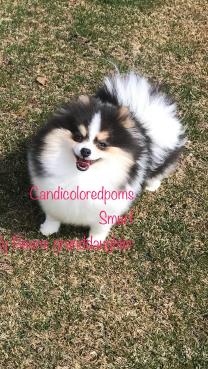 THIS IS AN EXAMPLE OF A TRI-BLUE MERLE PARTI AT 8 WEEKS TO ADULT.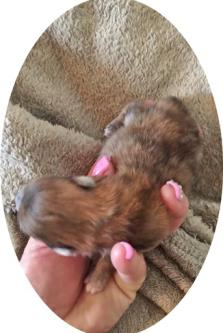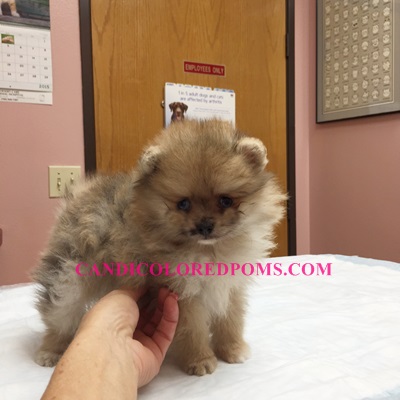 ORANGE MERLE AS NEWBORN AND THEN AT 8 WEEKS.  THE MERLING STARTS TO FADE INTO THE ORANGE WITH THIS COLOR MERLE AND THE DOG USUALLY ENDS UP LOOKINGMOSTLY LIKE AN ORANGE SABLE AS AN ADULT.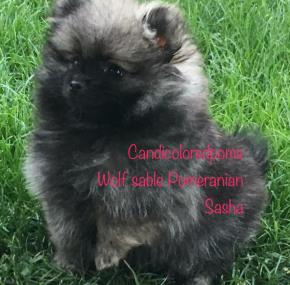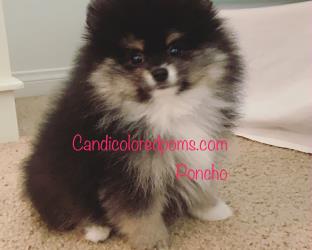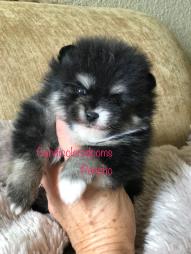 BLACK AND SILVER POM PUPPY AT 8 WEEKS AND AGAIN AT ABOUT 5 MONTHS.  YOU CAN SEE HOW THE COLORS START TO REALLY POP.  I'LL POST MORE PICTURES AS THIS PUPPY MATURES.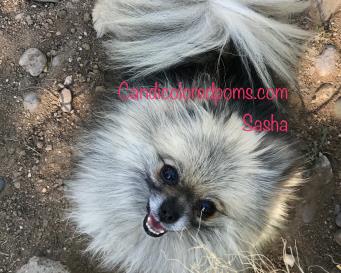 WOLF SABLE.  TRICKY COLOR.  MOST PUPPIES ARE BORN ALMOST BLACK.  THEY CAN CHANGE IN COLOR VARIATIONS UP TO ABOUT 2 YEARS OLD! YOU CAN SEE THE EXTREME COLOR CHANGES HERE.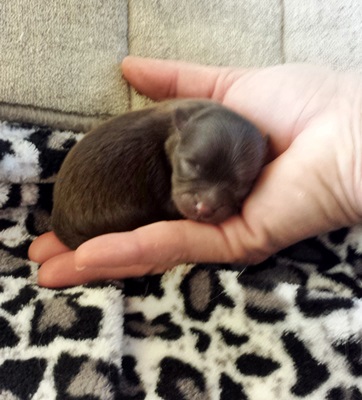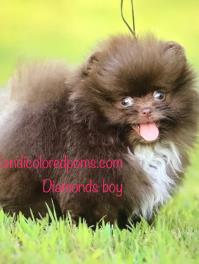 CHOCOLATE POMERANIANS STAY CHOCOLATE.  SOME COATS WILL FADE A LITTLE WITH AGE AND SUN BLEACHING.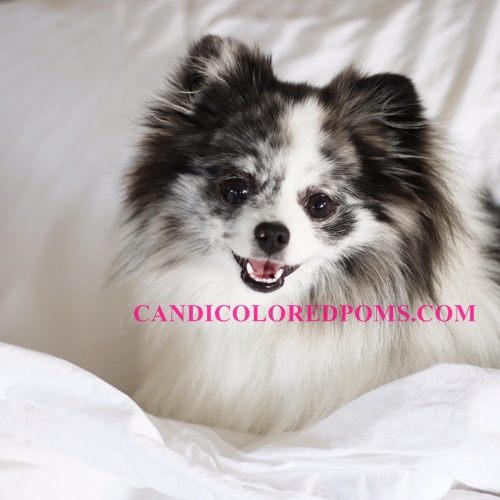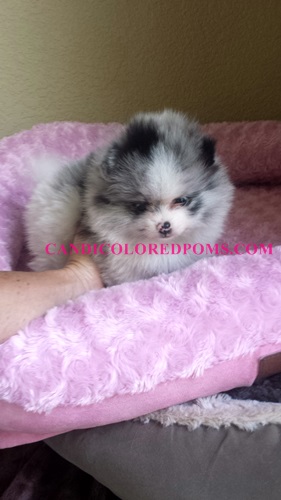 THIS IS A BLUE MERLE PARTI.   COLOR PATCHES USUALY SPREAD AND MAY LIGHTEN A LITTLE WITH AGE, BUT THE PATTERNS ARE STILL INTACT.