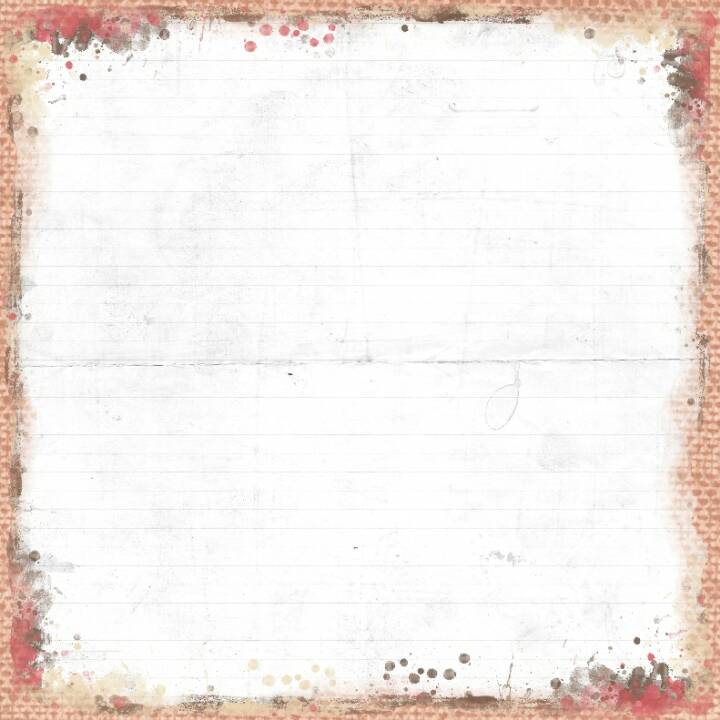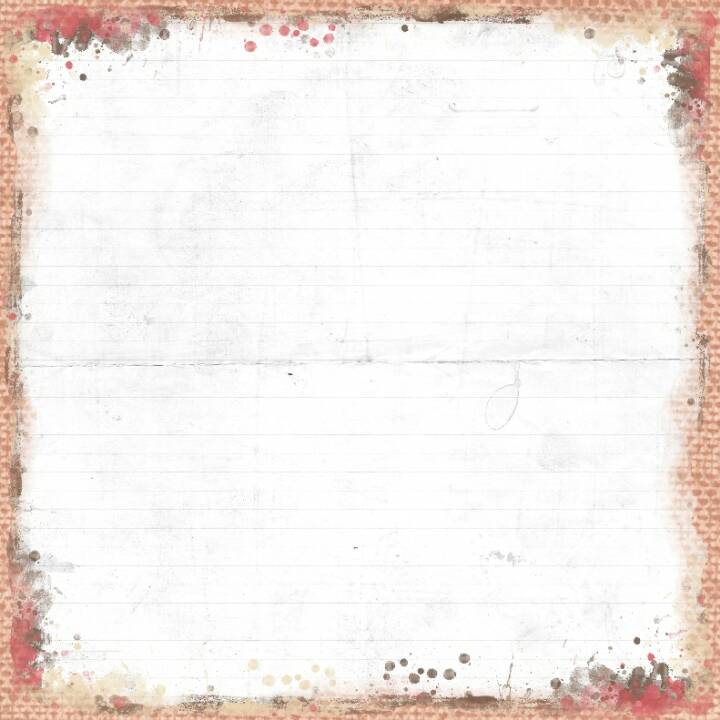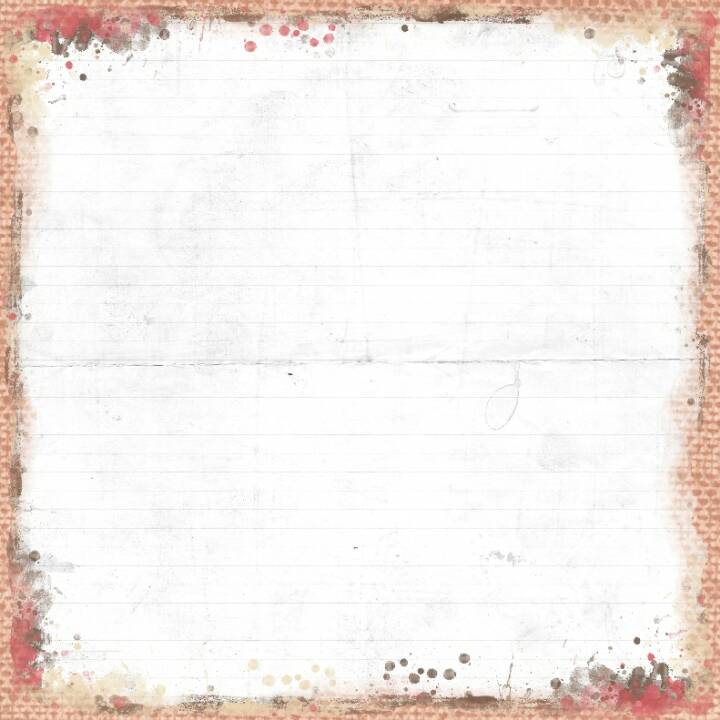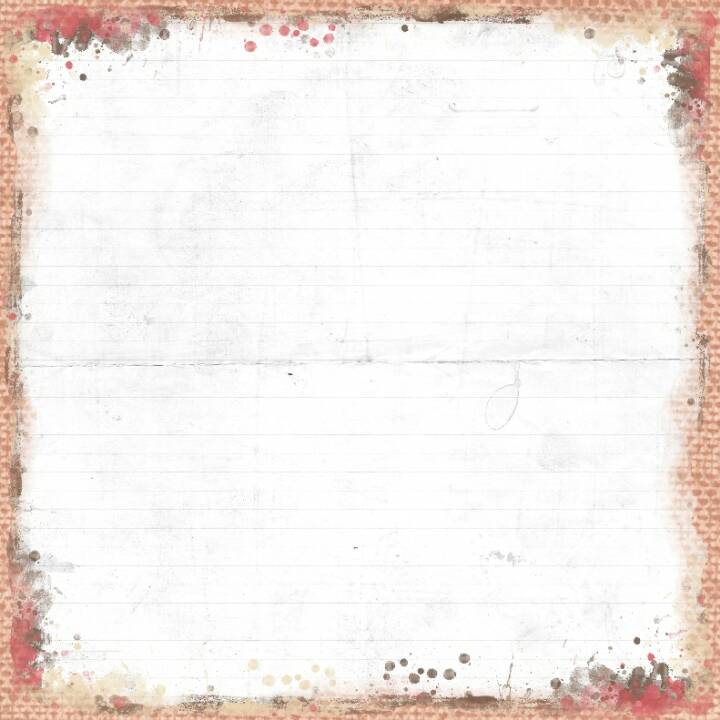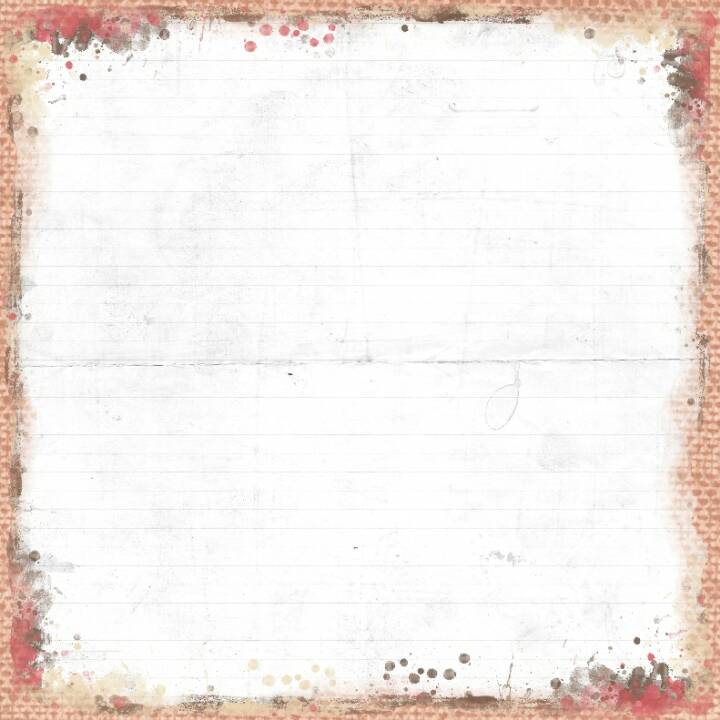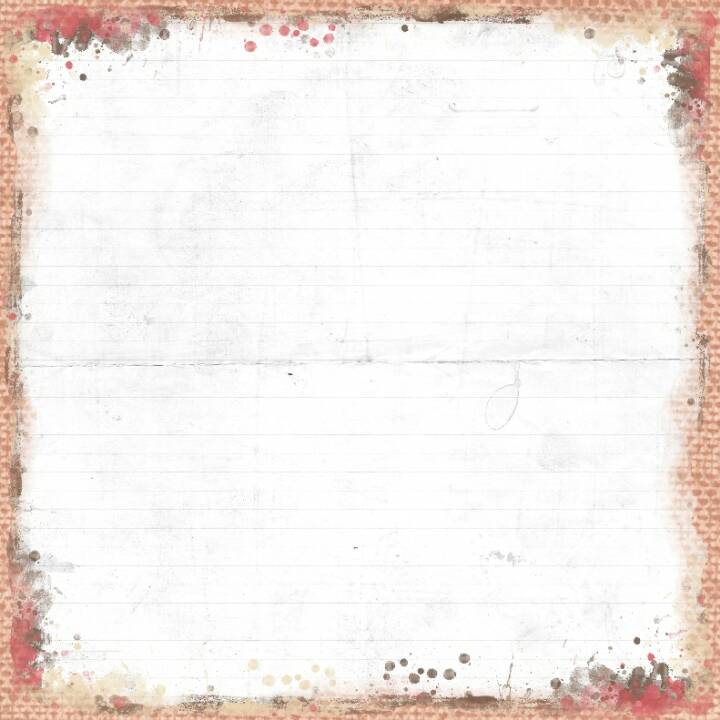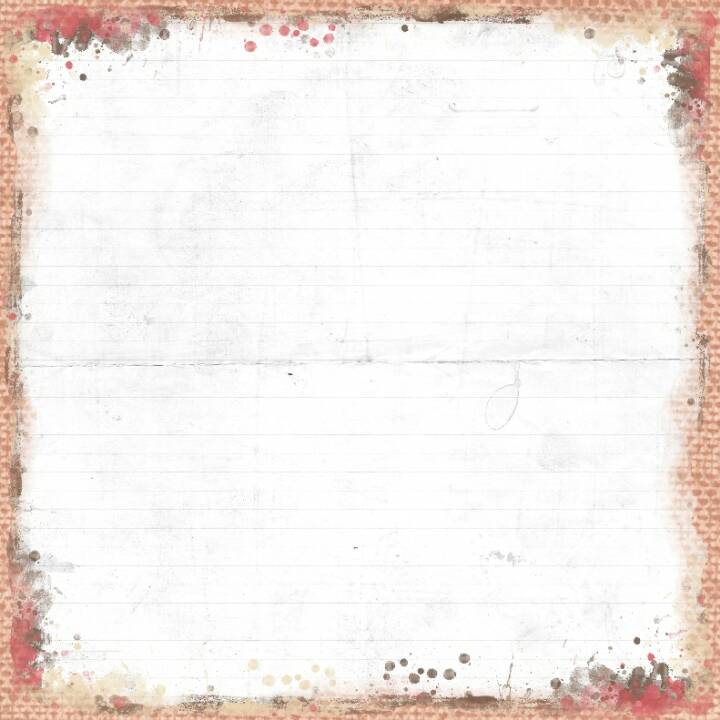 OLIVIA IS OUR BEAUTIFUL LITTLE CREAM SABLE GIRL.  SHE IS OUT OF VERY NICE SHOWLINES. WE ARE HOPING TO WORK ON OUR 'WOLF SABLE' LINES WITH HER AND GOTHAM.  SHE IS A BUNDLE OF ENDLESS ENERGY AND CAN NEVER GET ENOUGH ATTENTION.

THIS LITTLE BEAUTY IS A TRI MERLE.  WE CAN'T WAIT TO REALLY START WORKING ON OUR MERLE AND PARTI LINES AGAIN.

  ITSY BITSY QUINCY.  4 LBS OF JUMPING BEAN ENERGY!  A TRUE ICE WHITE.   THESE PHOTOS DONT DO HIM JUSTICE. HE IS MUCH SMALLER IN PERSON.  HIS PAST PUPPIES WERE AMAZING! (SEE PHOTO OF ONE OF THEM BELOW).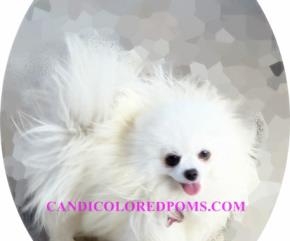 THIS LITTLE CREAM SABLE BORN IS FROM OUR LINES.  HIS MOTHER WAS BUNNY AND HIS FATHER IS GOTHAM.  HE IS ONLY ABOUT 5 LBS BUT HIS GIANT COAT MAKES HIM LOOK MUCH BIGGER.  HE HAS SUCH A CUTE LITTLE TEDDY BEAR FACE AND HAS PASSED THAT ONTO HIS OFFSPRING.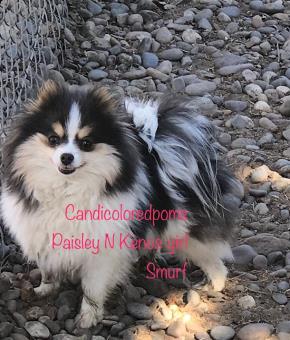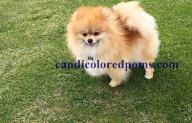 THIS LITTLE WOLF SABLE BOY IS GOTHAM.  HE IS LIKE HAVING A 2 YEAR OLD THAT NEVER GROWS UP!  HE IS VERY PLAYFUL AND OUTGOING. HE'S TINY, APPROX 4 LBS.   HE HAS PRODUCED SOME AMAZING PUPPIES FOR US AND WE LOVE EACH DAY WE SPEND WITH HIM.

QUINCY'S MOM- KATNISS.  MORE PICTURES OF HER ABOVE.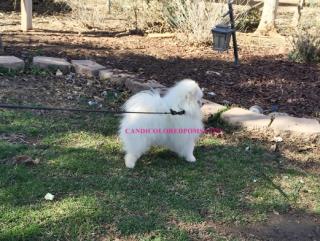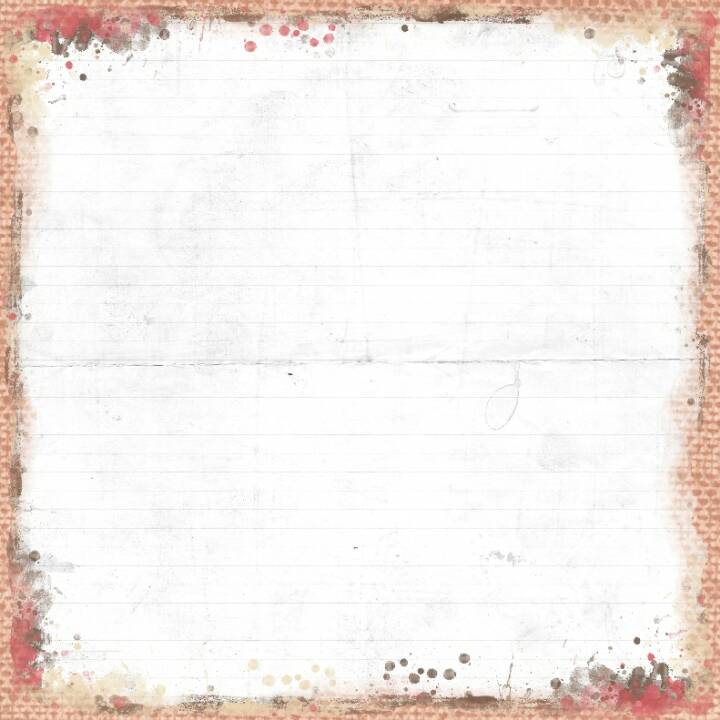 TINO -BELONGS TO MY FRIEND TERI, BUT WAS ONE OF MY PUPPIES FROM KANE (SEE ABOVE) AND TINSEL.  WE OCASSIONALLY USE THIS BEAUTIFUL WOLF SABLE BOY.  WE WILL BE STARTING A NEW LINE OF WOLF SABLES AND HE WILL BE PART OF THAT LINE.  LOOKING FORWARD TO SOME GORGEOUS PUPPIES.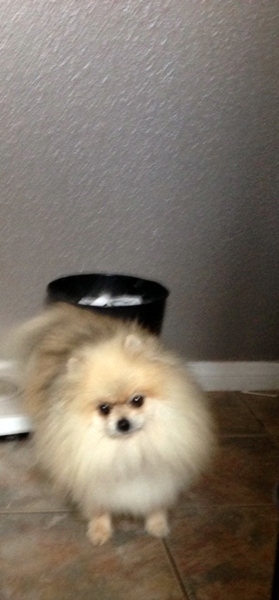 This is our  shared boy, Heathen.  He is our teddybear faced orange sable.  He has parti lines behind him also.  Long line of champions too, including Chars, Finches, and  Marvalles.  Sweet little guy. (No stud service available for him, sorry).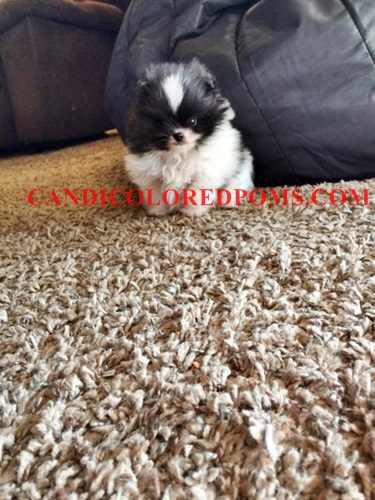 THIS LITTLE PARTI COLORED BOY IS QUINCY'S SON.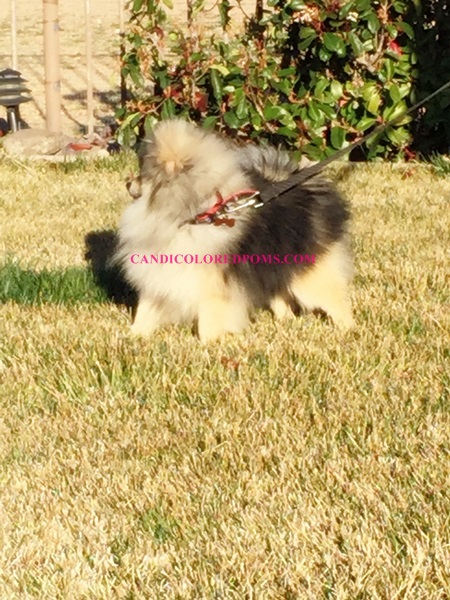 THIS IS JASPER.  HE IS A CREAM AND WHITE PARTI BOY IMPORTED FROM RUSSIA.  HE BELONGS TO MY FRIEND ALICA BUT WE USE HIM TO HELP OUR LINES.  HIS PUPPIES ARE AMAZING.

KANE-(NOW RETIRED)  IS THE FATHER TO TINO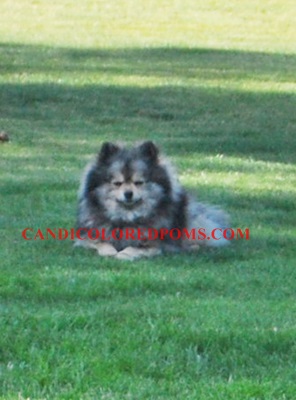 TINSEL-(NOW RETIRED) IS THE MOTHER TO TINO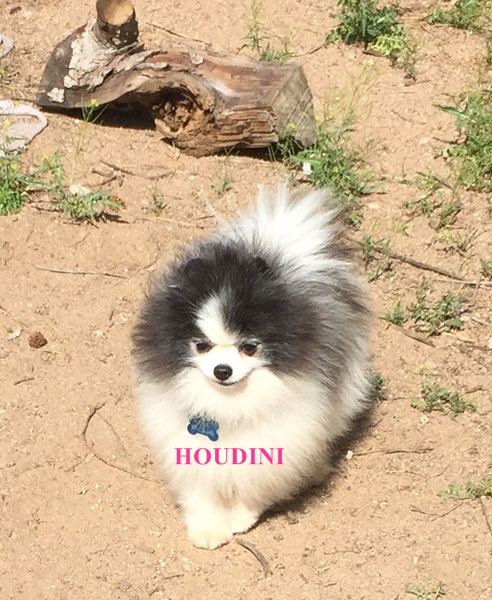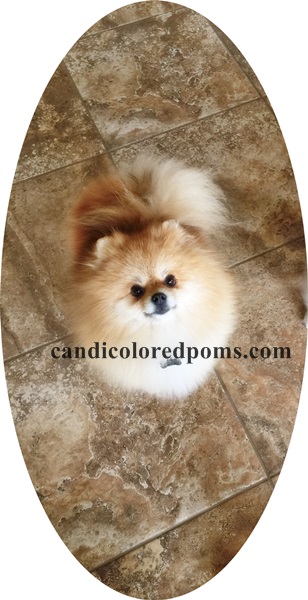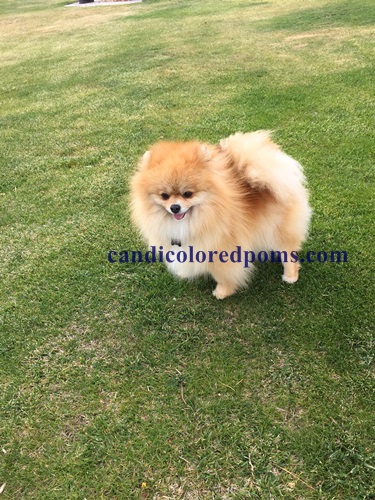 THIS IS KATNISS.  SHE IS AN ORANGE SABLE.  SHE IS APPROXIMATELY 6 1/2 LBS AND IS THE CENTER OF ATTENTION!  Loves everyone and everything, especially our cat, who does not share the same feelings for her!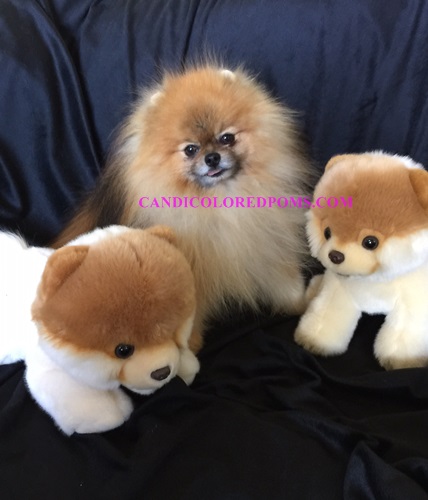 TINO-BEAUTIFUL WOLF SABLE POMERANIAN WITH VERY SWEET PERSONALIITY

PAISLEY IS JELLY BEANS DAUGHTER.  SHE IS A BEAUTIFUL SILVER MERLE, PIEBALD PARTI.  SHE'S SUPER OUTGOING AND VERY PLAYFUL.  HER FAVORITE THINGS IN LIFE ARE BIG DOGS!!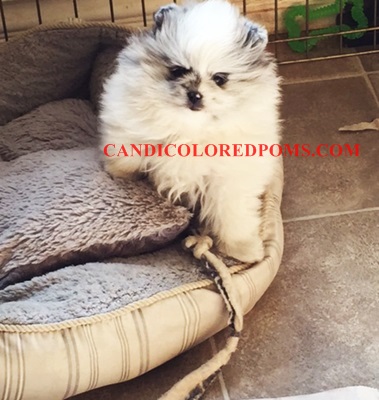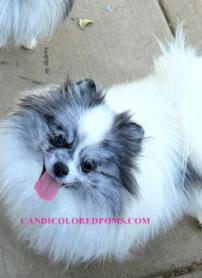 MAXIMUS- VERY TINY TEDDY BEAR FACED BLACK AND TAN BOY WITH BIG PERSONALITY.  HE BELONGS TO MY FRIEND TERI AT BEACHPARTYPOMS AND WE SOMETIMES USE HIM FOR STUD

CANDICOLOREDPOMS MASCOT, JELLY BEAN.

OUR SWEET LITTLE GUY, HOUDINI IS NOW RETIRED .  WE THANK HIM FOR ALL THE SMILE AND BEAUTIFUL PUPPIES HE PRODUCED FOR US THROUGHOUT THE YEARS.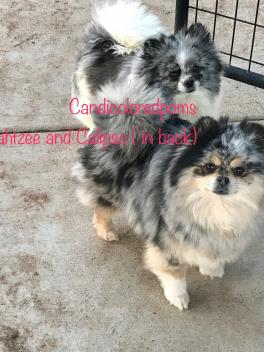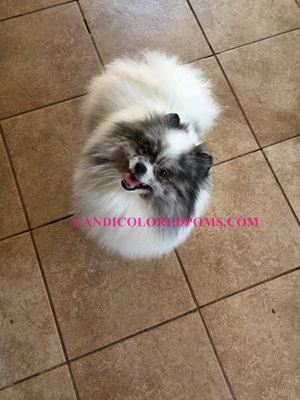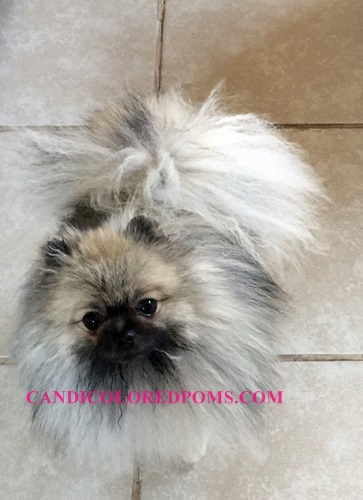 CANDICOLOREDPOMS WOLF SABLE POM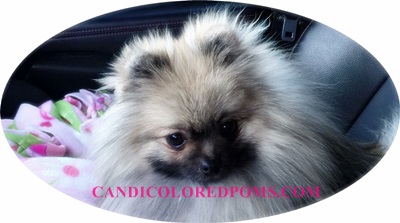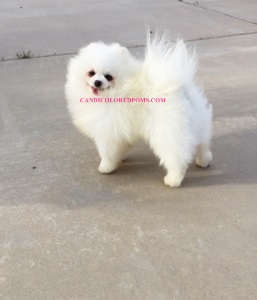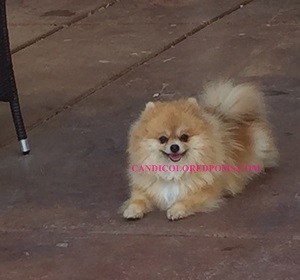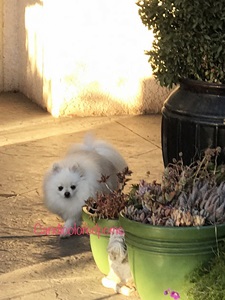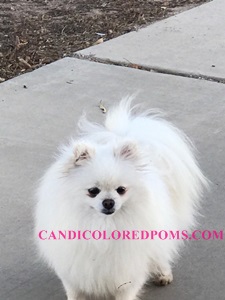 MIAMI IS OUR IVORY WHITE GIRL WITH A GIANT COAT.  QUIET AND SWEET, APPROX 6 1/2 LBS.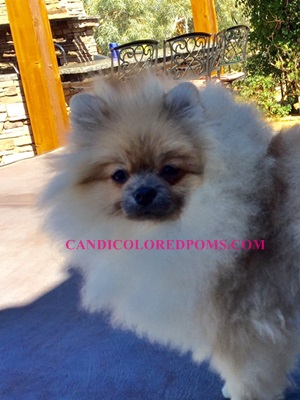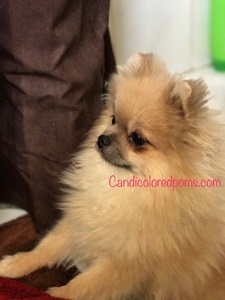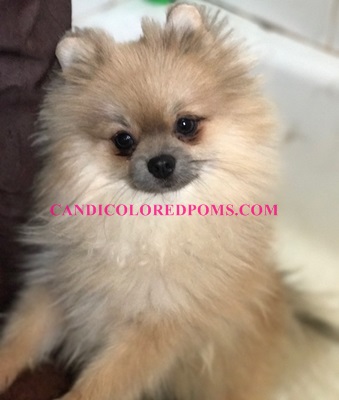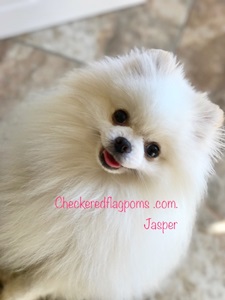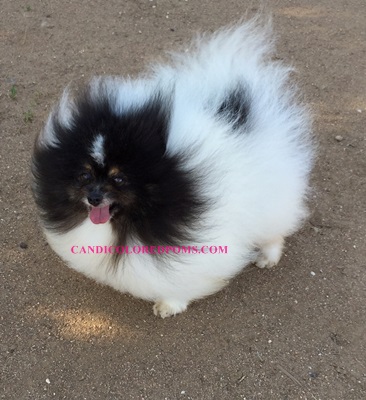 FABIO... R.I.P. MY SWEET LITTLE MAN.  HE WAS ONE OF MY ORIGNIAL BOYS AND PRODUCED AMAZING PUPPIES OVER THE YEARS INCLUDING HIS DAUGHTER WHO IS JELLY BEAN.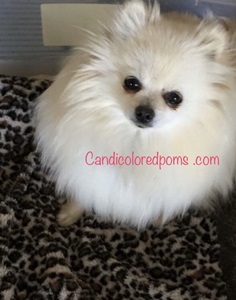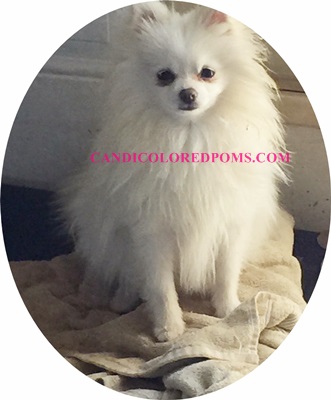 WE LOVINGLY CALL TIA OUR CRAZY GIRL.  SHE IS FULL OF ENERGY AND IS ALWAYS MOVING OR PLAYING WITH SOMEONE OR SOMETHING.  SHE'S APPROX 4 1/2 LBS AND HAS PRODUCED SOME GORGEOUS LITTLE WHITE POM PUPPIES.

THEY BELOW MALES ARE STUDS THAT BELONG TO MY FRIENDS OR ARE SHARED DOGS AND WE USE IN OUR BREEDING PROGRAM.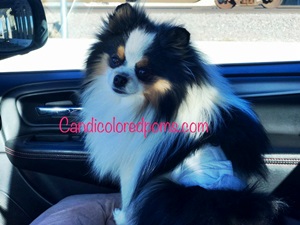 KENO IS APPROX 6 LBS OF FLUFF!  HE IS A TRI COLORED PARTI.  HOPING TO WORK ON OUR MERLE AND PARTI COLORED LINES WITH HIM.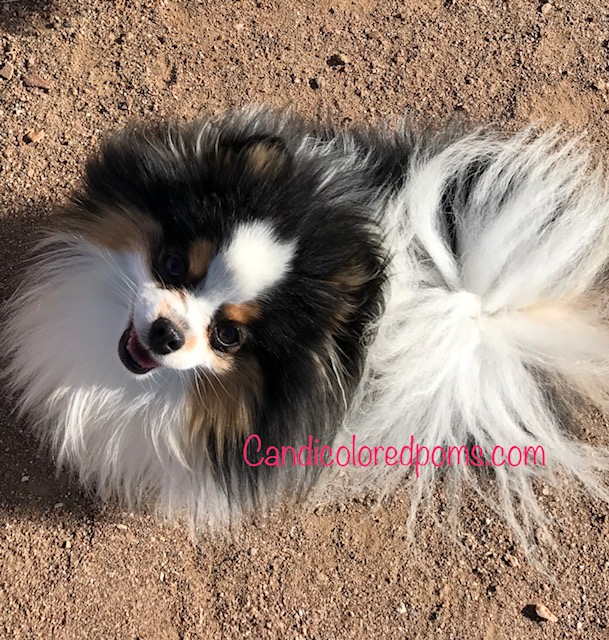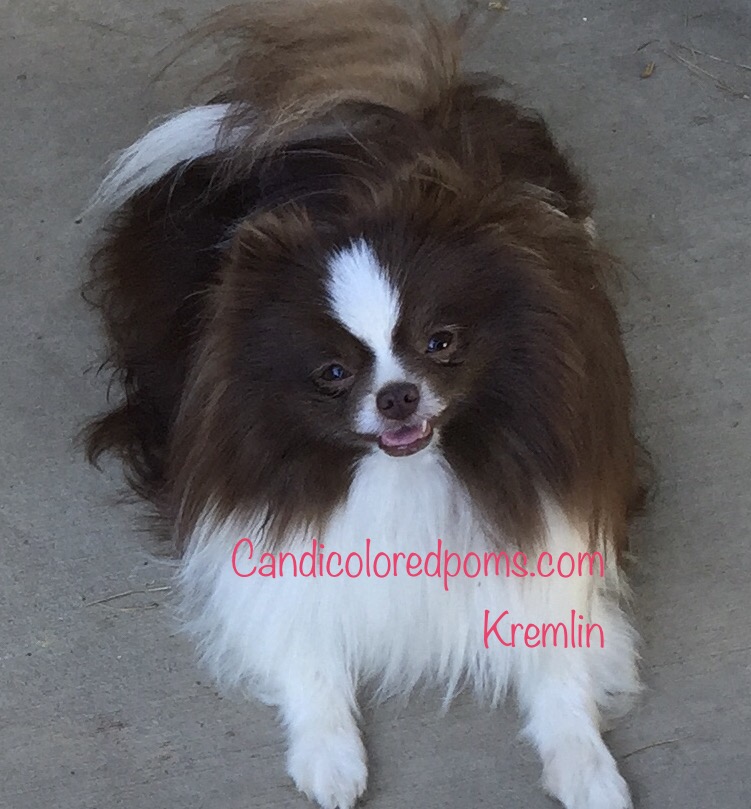 KREMLIN IS OUR RUSSIAN IMPORT.  HE IS A DARK CHOCOLATE AND WHITE PARTI BOY .  SWEET AND BOUNDY LITTLE BOY.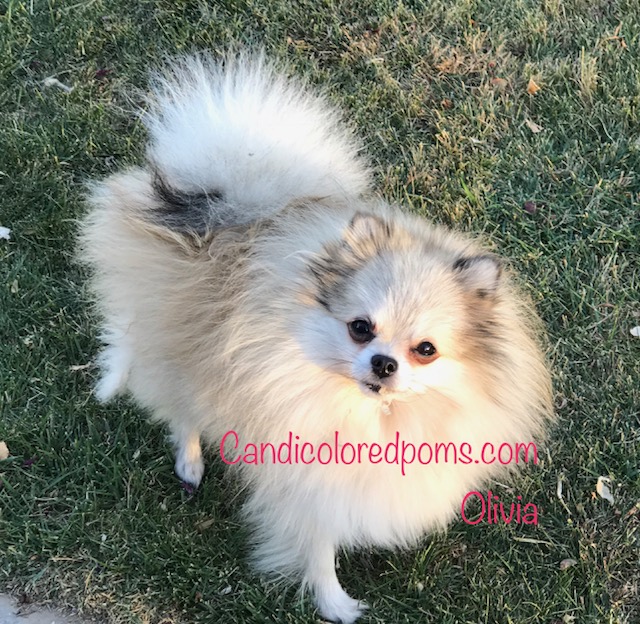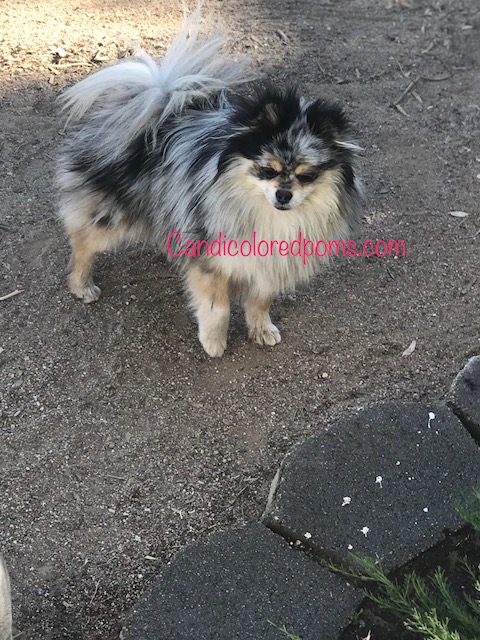 THIS IS STITCH.  HE BELONGS TO MY FRIEND TERI.  HE IS ABOUT 4 LBS.  GORGEOUS BLUE MERLE BOY.  LOOKING FORWARD TO USING HIM WITH SOME OF OUR PARTI LINES.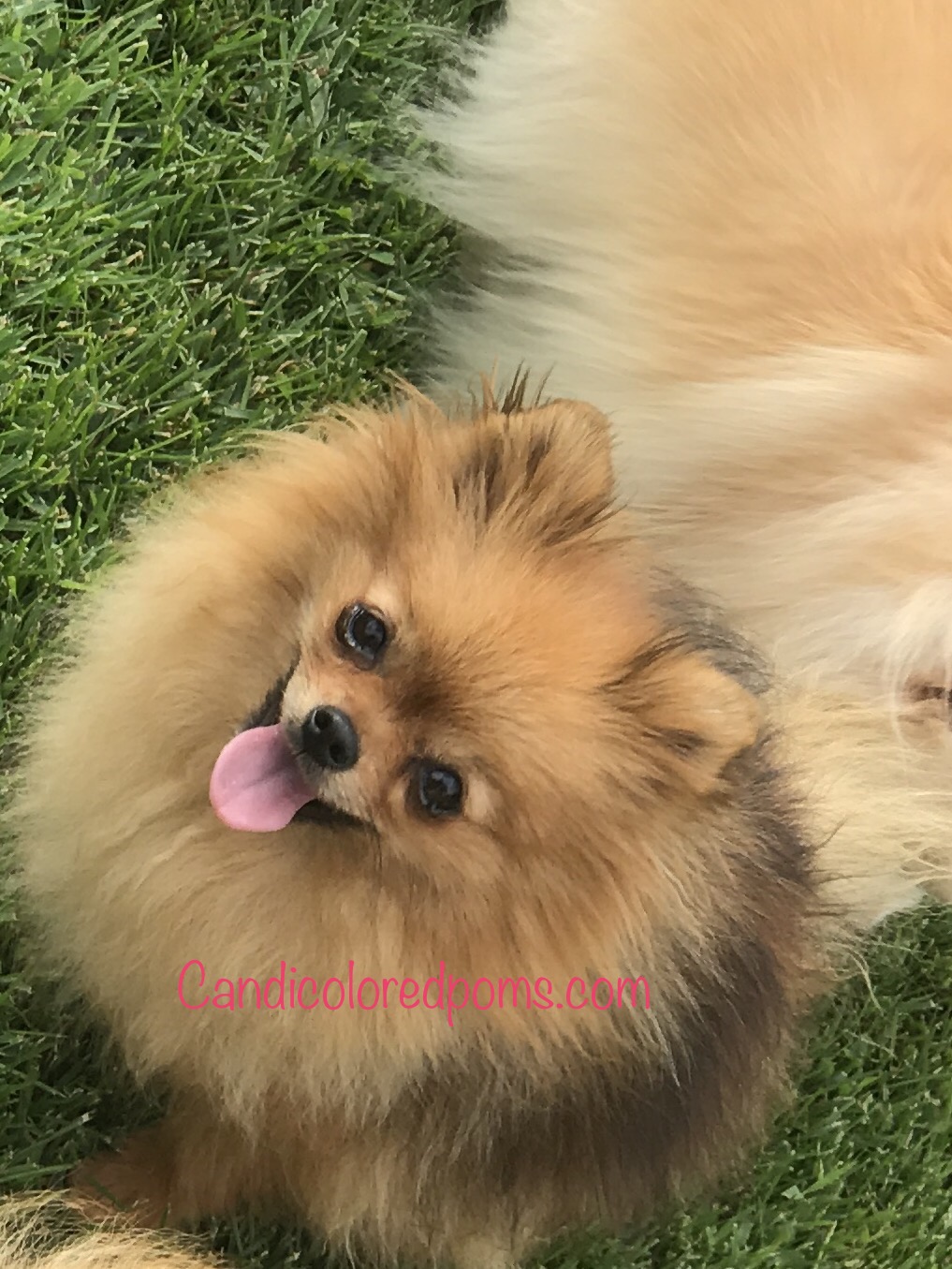 I TRY NOT TO HAVE FAVORITES, BUT THIS SWEET LITTLE 4 LB, ORANGE SABLE DOLL HAS STOLEN MY HEART!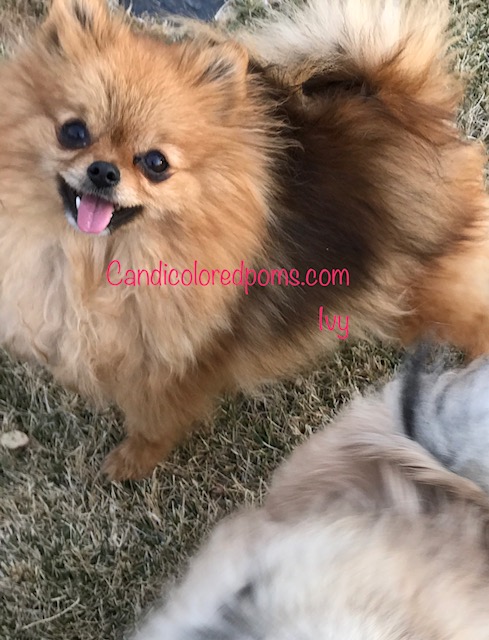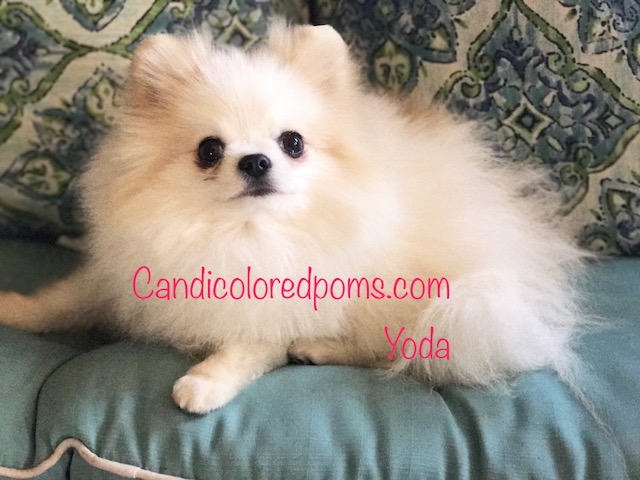 YODA IS OUR TINY, GORGEOUS, CREAM AND WHITE PIBALD PARTI, RUSSIAN IMPORT.  HE HAS KOREAN AND TAIWAN LINES AND SOME GORGEOUS WHITE POMERANIANS IN HIS LINEAGE.